iPF Softwares an award winning software development company based in Tanzania, focused on designing, developing and innovating impactful-driven digital solutions for businesses in Africa once again has topped the Clutch list as the Best B2B Technology company in Tanzania.
iPF Softwares promises a strong business success to deliver greater efficiency, sustain and improve compliance and deliver customer satisfaction while meeting its key objectives around quality, accuracy, time and cost.
Our team is overjoyed to celebrate a fantastic recognition made possible by our exceptional clients.
iPF Softwares has been awarded the best-performing B2B Technology Services software development company in Tanzania during the prestigious Clutch Leaders Awards in 2022.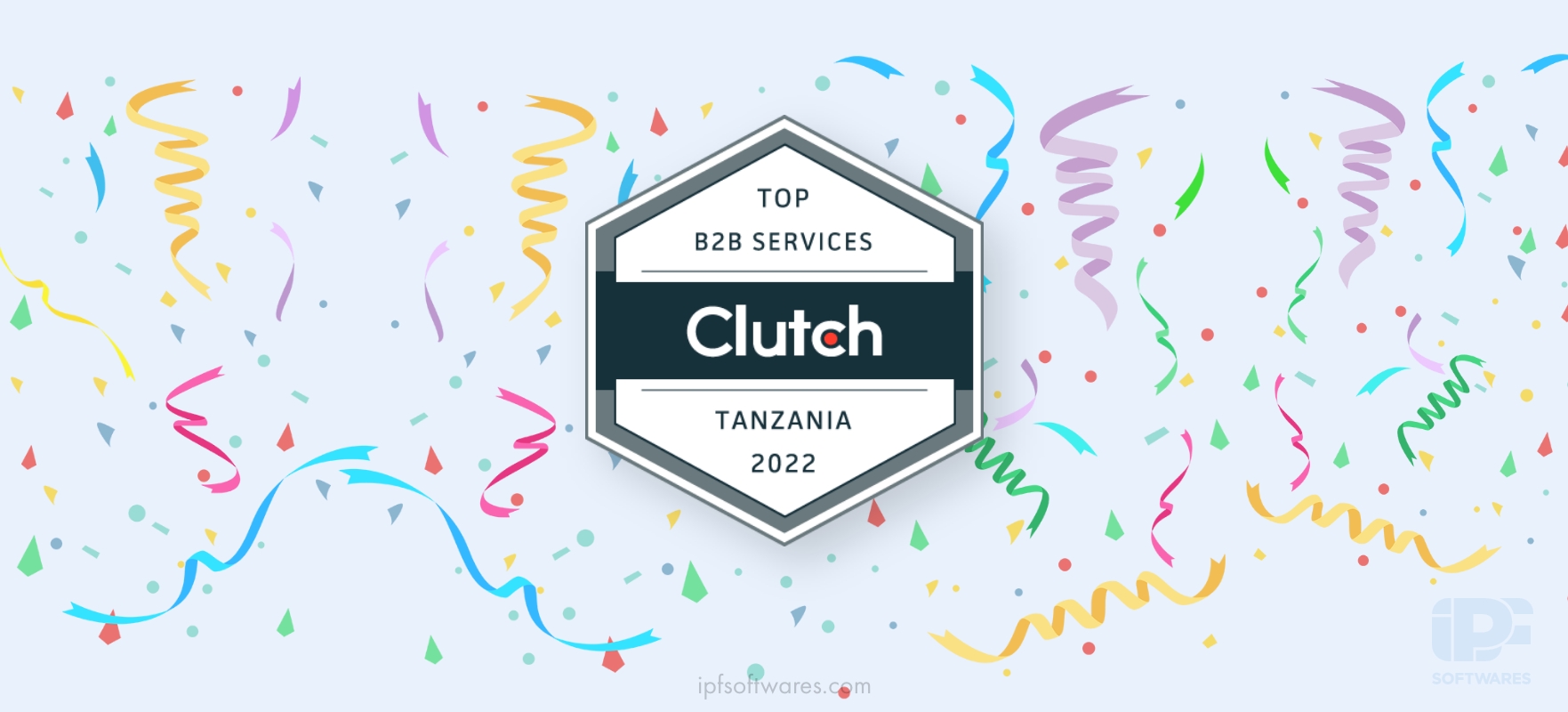 Clutch's Top B2B Service Award
The Award : iPF Softwares Best B2B Technology Service Provider based in Tanzania
It's a great honor to be recognised as Tanzania's top B2B technology service provider by a Washington DC based market research firm Clutch.
It is a significant accomplishment for us to be held to such high standards in such competitive markets.
We feel that our position as a leader in Tanzanian software development and digital transformation is attributable to our clients and partners, who consistently push us and provide both positive and negative feedback.
It's also because of our continual expansion and focus on developing high-quality digital solutions that will create economic and social impact in Africa through digital transformation and digital solutions developed at iPF Softwares.
What makes iPF Softwares Tanzania's Top B2B Technology Service Providers?
Of course, our client and partner's feedback!
Every software business claims to be the greatest at one or more technologies, but it can be difficult to differentiate the truth from marketing.
Who is truly at the top if everyone is?
We don't want to brag about ourselves, so we let our clients speak for themselves.
All quotes are from previous or current clients and partners.
The complete company reviews can be found on our Clutch.co official profile.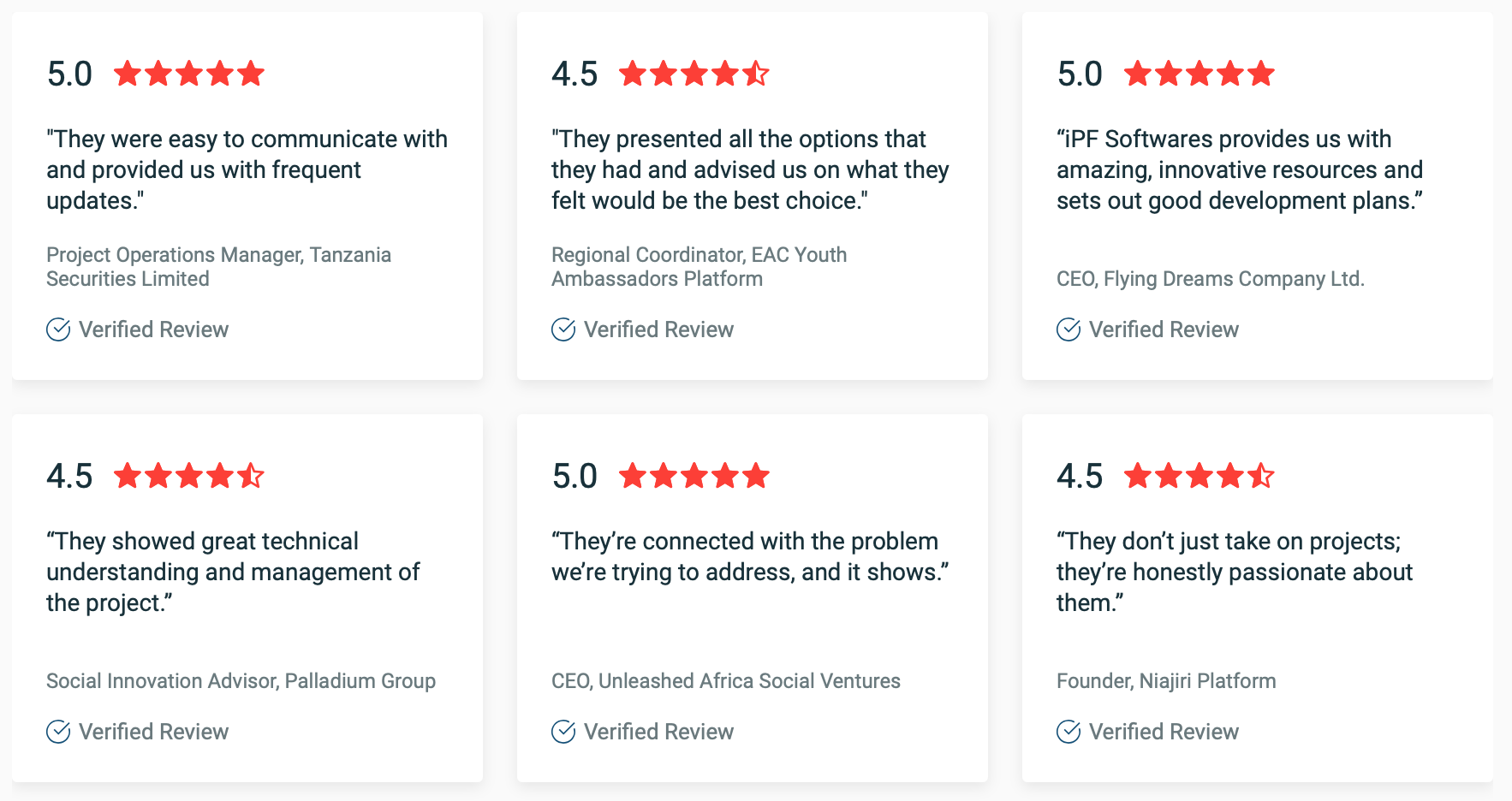 iPF Softwares' Clients Review on Clutch
Gives us joy when we deliver above and beyond, below are clutch verified client's testimonial:-
Ideation, discovery and design of an operating system for Tanzania Securities Limited
" They were easy to communicate with and provided us with frequent updates. We had both in-person meetings and phone calls, but most feedback was through a WhatsApp group, which we were most familiar with. Everything was delivered on time "
Brian C. | Project Operations Manager, Tanzania Securities Limited
Website development and design for East Africa Youth Ambassadors Platform
"iPF Softwares developed and designed the website of a youth ambassadors platform to help them establish their online presence. They also trained the client on updating and maintaining their platform."
Sebastian Ssegawa | Regional Coordinator, EAC Youth Ambassadors Platform


Customer software development : Mapping the Tanzania Innovation Ecosystem With HDIF & COSTECH
" Even though most service providers don't have internal processes that could give clients peace of mind, iPF Softwares invested a lot of time building their team's capacity. They had systems and internal tools in place to manage the tender. I worked as the project manager and kept track of them as time went on. One of the things I enjoyed from the beginning was they took us through the tools. I got to understand how they kept their dates and set their week — it was easy and useful and I became part of their team. "
Simon Mutabazi | Social Innovation Advisor at Palladium Group
Platform Development for Program Development Unleashed Africa: Rise Up, 1st Digital Safe-Space for Girls in Africa,empowering girls to execute their dreams.
" Project management is a strength of theirs, and they iterate every time something isn't working. They fully understand the particular problems we are trying to solve and all of the related pain points. They also never make anyone on my team feel foolish when discussing technical things."
Khalila Mbowe | CEO Unleashed Africa


Dedicated Agile Development Team for Care International: Design and development of Chomoka Platform an Industry-leading solution connecting savings groups with opportunity
" With any software project, you're going to run into issues or unexpected results, such as bugs or downtime. I have 100% confidence that the iPF Softwares team will immediately work to resolve any raised issues. iPF Softwares not only resolves the issue quickly, but they keep the client informed at every stage."
Karen V. | Former Product Manager
---
We'd like to thank all of our wonderful clients who took the time to review us on Clutch.
The Best B2B Technology Service Provider based in Tanzania Award, would not be possible without them; special thanks to our team at iPF Softwares, the passionate, unconventional, and creative individuals who always focus on delivering above and beyond, finding ways to add that extra touch of class and quality to every project they work on, and who are constantly challenging the status quo in pursuit of excellence.
At iPF Softwares, we believe that technology use is a right, not a privilege, and our mission is to ensure that people in Africa have access to world-class digital solutions and tools that will improve their economic and social life.
We accomplish this through partnering with different organizations to create, design, develop, and invent technology-driven solutions that assist drive the intended impact.
Join the companies that have given iPF Softwares a 4.8 / 5 rating on Clutch for outstanding quality, dependability, and communication on their projects.
To get started, send us an email at business@ipfsoftwares.com or submit your project brief using our contact us page.
Awards received by iPF Softwares
The recent honors are not the first ones received by iPF Softwares.
Back in 2021, Clutch named iPF Softwares as Best Software Developers in Tanzania.
That same year, iPF Softwares were also awarded as the best software development company based in Tanzania by the Ministry of Communication, Science and Technology Tanzania under the ICT Commission.
Bottom line, Our client's satisfaction is the biggest and the most important award. We win every day when they recognize the value of their investment in us.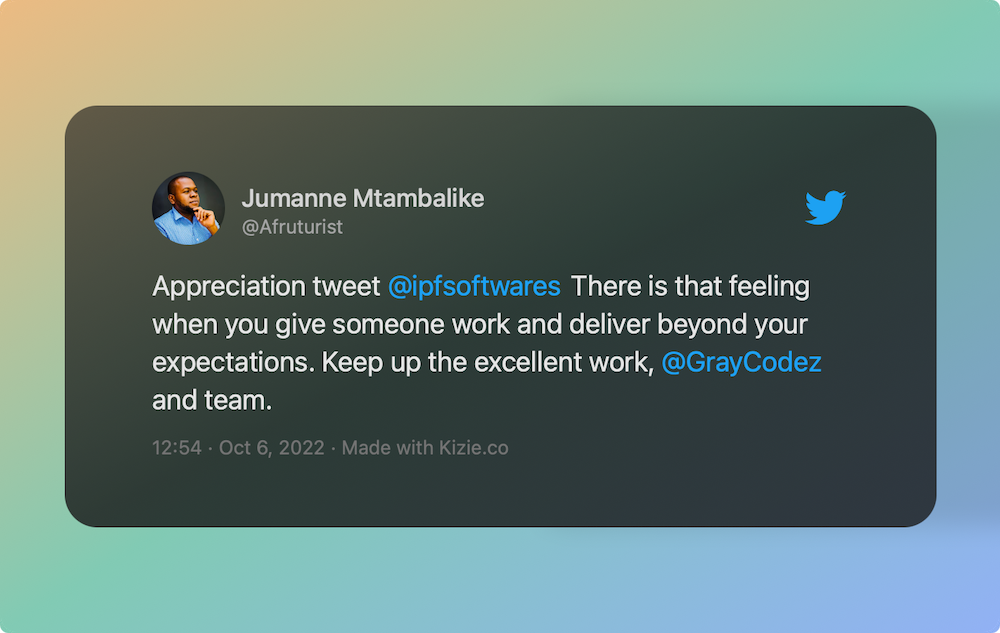 Jumanne Mtambalike | CEO Sahara Ventures*
About Clutch: B2B Market Research Firm
To put this award in its proper context, Clutch is a Washington DC based market research firm for market researchers around the world that covers the Technology, marketing, and business services sectors.
During their Leaders Awards cycle, the firm honors the very finest service providers from all around the world.
Clutch.co provides in-depth reviews and statistics to help you choose the best software development company for your next venture - mobile and web applications, excellent product design, custom software engineering in any technology, and so on.
Clutch creates leader matrices based on all of the information they can gather, listing the highest-rated software development outsourcing organizations based on focus score (degree of specialization in a certain technology) and ability to deliver (overall expertise based on a variety of criteria such as client reviews, awards and past projects).
The recognised companies around the world, iPF Softwares included, were evaluated not only on their proven track record of delivering the highest quality tech products, but also on their offered software development services, industry awards, favorable client evaluations, and other factors.