We are overjoyed and extremely proud to announce that Niajiri Platform, one of our clients and partners, has been named the Best Rising Star Girls ICT Startup for 2022 by the Tanzania Ministry of Information, Communication, and Technology.
Niajiri Platform is a female-founded digital solution that is disrupting the talent management sector in Tanzania. This recognition was given during the ICT annual Conference (TAIC).
Niajiri Platform is an innovative startup that is using technology to connect and empower talented individuals in Tanzania.
The platform provides a space for professionals to showcase their skills, find job opportunities, and connect with potential clients or employers. It is a valuable resource for professionals in the country who are looking to grow their careers and make a positive impact in their communities.
We are thrilled to see Niajiri Platform receive this prestigious recognition and are proud to be a part of their journey.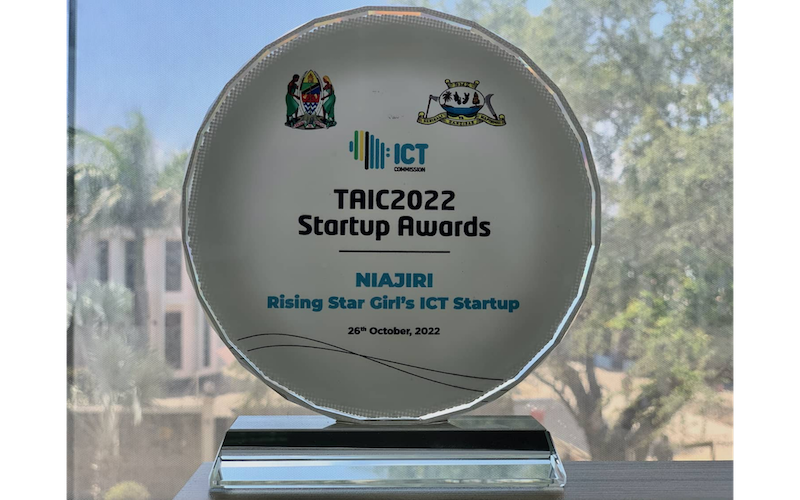 Niajiri Platform's Award as Best Rising Star Girls ICT Startup in 2022
This award is not only a great achievement for Niajiri Platform, but it is also a victory for women in technology. The tech industry has long been dominated by men, and it is inspiring to see a female-led startup making such a significant impact in the field. We hope that this recognition will inspire other women to pursue their dreams and make their mark in the tech industry.
Overview of the Tanzania Annual ICT Conference (TAIC) 2022
The Tanzania annual ICT Conference is one of the largest ICT technology gatherings in Tanzania that serves as a platform for policy makers, investors, and professionals. It provides a platform for professional discussion, business opportunities and networking.
TAIC 2022 succeeds other TAICs and Annual ICT Professionals Conferences (AIPC). The conference discussions focus on emphasizing the role of ICT in social-economic development and the role of ICT as an important tool for the attainment of Tanzania's Development Vision and Sustainable Development Goals.
The main theme this year (2022 ) was, "Leveraging digital transformation in the blue economy for social-economic development".The event was featured by interactive sessions,exhibitions,ICT awards,startup expo and research.Bringing together stakeholders from the government and private sectors.
TAICS events are organized by the ICT Commission, established by the presidential decree in 2015.Its main function is to plan,implement and coordinate national ICT initiatives.The commission also certifies ICT professionals, fosters development of the ICT industry and also collaborates with ICT stakeholders.
The ICT Commission awarded startups in various categories, including Rising Star ICT Startup Award for young and student-run startups, Rising Star Girls ICT Startup Award for startups run by girls, Agritech for innovations in the agriculture sector, Blue Economy Award for innovations in the blue economy, Edutech Startup Award for innovations in education, Fintech for innovations in the payment, financial inclusion, and insurance sectors, HealthTech for innovations in the health sector, TourTech for innovations in the tourism sector, Digital Inclusion for innovations in digital inclusion for people with disabilities, e-Commerce for innovations in eCommerce, and Digital Security for innovations in digital security.
Female-founded Niajiri Platform recognized as top tech startup in Tanzania
Niajiri Platform is a technology driven talent management platform , that focuses on up-skilling entry level talent for the marketplace while at the same time providing a tool for employers to access top talent in the marketplace.
Niajiri Platform is the brainchild of Lillian Secelela Madeje, which was brought to being by iPF Softwares a dedicated agile development firm based in Dar Es Salaam.
Founded in 2017, Niajiri has undergone various loops of improvements to what it is now. The digital solution has moved from being just a talent acquisition platform to now fully integrated to talent development, using integrated learning and data analytics.
The technology backbone of iPF Softwares combined with the experienced human capital team from the Niajiri Platform is what has ensured that this platform defines its own category in the Tanzanian human capital market.
Read more on the Niajiri journey : "Niajiri Platform case study from an Idea to a scaling product "
We are proud of our partners' achievement. It's another success story for the iPF Softwares team.
At last, 6 years of hard work paid off, Lillian Secelela Madeje and her team have been recognized by the ICT commission as the Best Rising Star Girls ICT Startup 2022.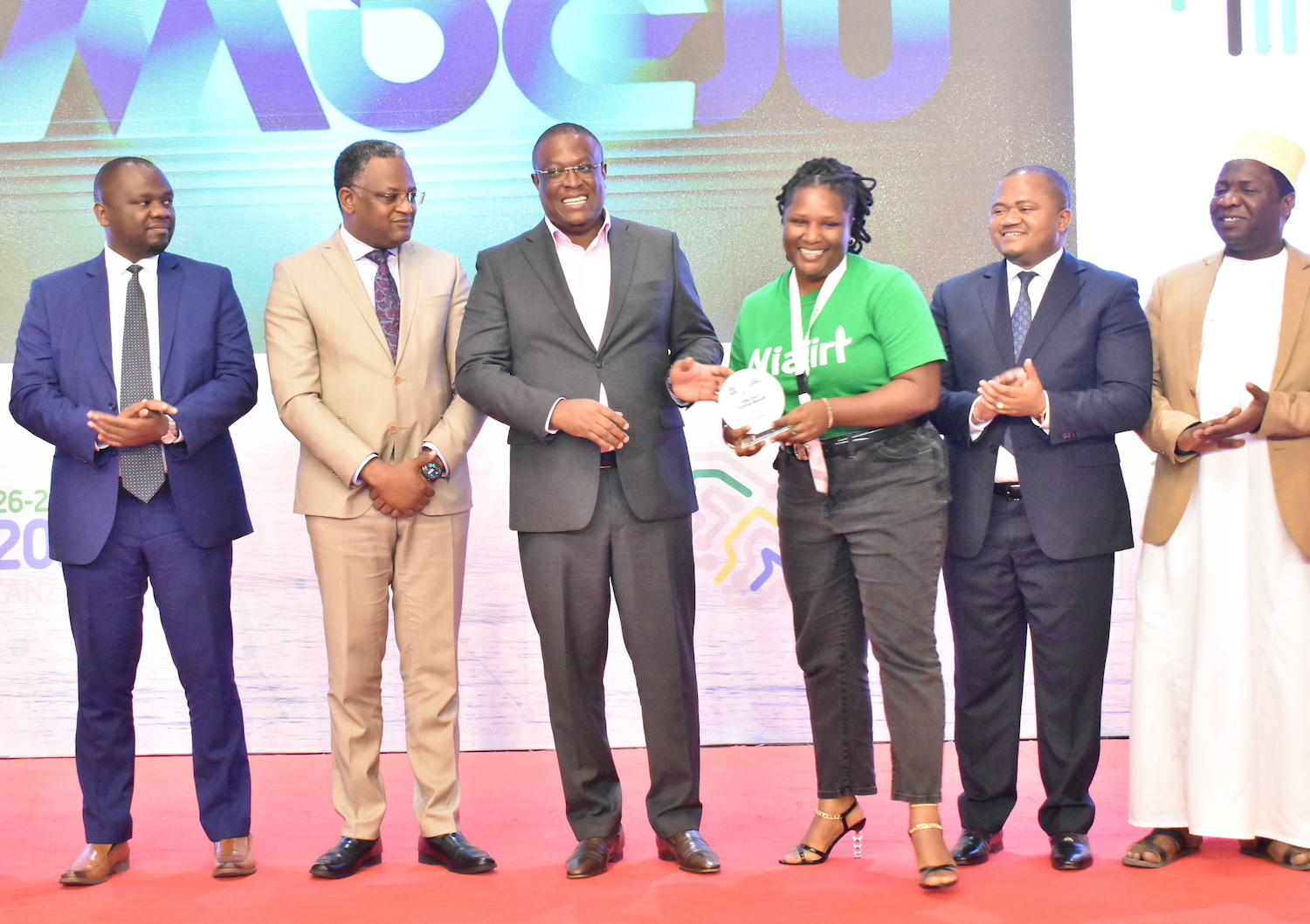 Pamela, Niajiri Product Owner - Receiving the Award
The company fits better in this category because it is led by a lady, Lilian Secellela, who is a digital enthusiast and an innovator, managing an impactful digital solution, the Niajiri platform.
See what the Niajiri Engineering Team at iPF Softwares had to say about the award.
It's a fantastic testament to our success for me and my team members. Also, it proves that our work has an impact and is meaningful for my team members, customers, and the market.
This award means a lot to me because over the past two years I started working with the Niajiri team as a UX designer on a mission to design an impactful solution for entry-level talents seeking opportunities and employers who seek talents, ever since we have been working tirelessly to achieve that goal. This award is an indication that we are heading in the right direction and we are happy for it.
It makes me proud, this is the product we have been building from its inception and so naturally makes myself and my team very proud to be part of all this.
It makes me proud, this is the product we have been building from its inception and so naturally makes myself and my team very proud to be part of all this.
The award to the iPF Softwares team means, we have been successful in this project, our efforts and determination have paid off with excellence.
This is not by chance, but through having clear intentions, sincere efforts and using intelligent execution. This is what we stand for in all implementations of our projects.
Turning Your Innovative Idea into a Successful Business with iPF Softwares
Do you have an innovative idea that could revolutionize the way we do things? If so, you may be able to turn that idea into a successful business.
The key to success is to develop a plan that will help you bring your idea to life. Start by researching the market to determine if there is a need for your product or service. You should also consider the competition and how you can differentiate yourself from them. Once you have a clear understanding of the market, you can begin to develop a business plan.
Your business plan should include a detailed description of your product or service, a marketing strategy, and a financial plan.
You should also consider the legal aspects of starting a business, such as registering your business and obtaining the necessary licenses and permits. Once you have a plan in place, you can begin to look for funding.
You may be able to secure a loan from a bank or other financial institution, or you may be able to find investors who are willing to back your idea. Finally, you should be prepared to put in the hard work and dedication necessary to make your idea a reality. With the right plan and dedication, you can turn your innovative idea into a successful business.
Our focus at iPF Softwares is on designing, developing, and innovating digital solutions for impact-oriented businesses and initiatives that link people with social and economic opportunities in Africa.
Contact us today, so we start with the first step " Problem Discovery Phase " and see where that leads us.